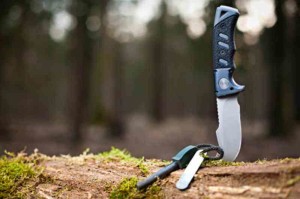 Basic survival skills are something that will always come in handy whether you are an outdoors-man or not. You just never know when you might be in a situation where your skills will dictate if you make it out alive. Some of the skills that will be critical to your survival are your attitude, building a shelter, finding water, building a fire, and finding food.
Your attitude toward your survival will probably be the biggest tool you use for survival. The mind is a very powerful thing and if you believe you can make it and survive; then you probably will. It is easy to get down on yourself if you are caught in a bad situation that you might not see a way out of, but it is important that you don't let that happen. Action is the key to your survival.
Water will be critical to your ability to survive; dehydration can wreak havoc on your body. Finding water should be a top priority in
your basic survival skills. The optimal situation for clean drinking water is to locate a spring. If a spring cannot be located then you will have to make do with what you find; however, in any event you should not drink untreated water. The best, and easiest, way is to boil the water. Boiling will kill any bacteria or viruses that may be contained in the water.
If you determine that you will have to be someplace for an extended time before rescue, a shelter should be one of your first tasks. The shelter does not have to be something extravagant, it just needs to keep the wind, rain, or snow off you. Probably the easiest form of shelter is to find a cave. If a cave is not available your next best bet is to construct a hut from the available materials around you.
Once your shelter is built then you will need to turn your attention to building a fire. A fire will do a couple of things for you. It will help to keep you warm. Hypothermia is one of the greatest dangers when
you are in a survival situation. Your fire will also come in handy for cooking and boiling water. Building a fire is something that takes a little skill if you find yourself with no form of ignition. It is wise to practice building outdoor fires because you do not want to have to learn when it counts.
Food will be the next thing that will need your attention. Studies show that a person can live up to three weeks with no food, but that is something that you would not be wise to try. Wild plant life will be your best bet for a food source. There are plants that are poisonous, so caution must be exercised. Do not eat plants unless you are certain they are non-poisonous. Small game animals are also a good source of nutrition. There are many insects that can also be eaten.
As you can see a few basic survival skills can go a long way to helping you survive a bad situation. If you are going to be in an area where you might need these skills it would not hurt to brush up. This knowledge might serve to save your life.