Pocket chainsaws are pretty awesome tools that don't take up a lot of space. They normally look similar to a chain on a normal gas chainsaw, but they have bidirectional teeth, so you cut on each stroke you make.
Pocket chainsaws are pretty simple and easy to use. The best technique is make sure you have proper leverage when sawing. If it is moveable, you can lay the piece on the ground and hold it with you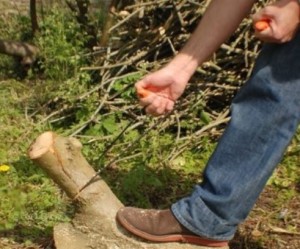 foot, you generally want to standard parallel with the log.  Cutting down a small tree is pretty easy, but be careful not to cut pieces directly above your head, unless a head ache is what you are going for.
Don't apply too much tension the chain as you are cutting, it should be a relatively smooth and easy motion. You don't want to dig the teeth in too far and have it catch. The nice pocket chainsaws can cut 3 inch branches in about 10 seconds without breaking a sweat. You should be able to cute through a 10 inch branch (soft wood) in about a minute.
Most of the pocket chainsaws don't have handles, they have small metal rings. To make it easier on your hands, break some small branches and put them through the rings to use as handles. Alternatively, you can tie some larger paracord loops around the rings as handles.
So why is cutting stuff with a pocket chainsaw important? Just a few ideas:
Cut down and move trees in your path
Cutting firewood
Building a shelter
Making a raft
Cutting bone (yes, it could be needed!)
Survival pocket chainsaws: There are pocket chainsaws that look
more like a wire than a chainsaw. These are still great survival tools and do work, they just take a little bit longer.
So be ready for whatever comes. Keep a pocket chainsaw handy at home, in your car, and in your ditch bag.